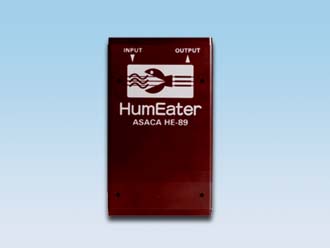 HumEater
 HE-89/890
 Easily remove the Hum noise
Overview
The HumEater is for solving the trouble of inductive hum and noise interfering in video signal, which occurs due to potential difference in earth grounding. The way to use the Humeater is very simple; just insert it into the coaxial cable which causes the trouble. No power source is required, and no equipment trouble will occur as it is a passive circuitry. Of course, as it will not become the cause of deterioration in DG and DP, it can used freely at any place.
Example of usage
Insert the HumEater in the cables which become the cause of interference, such as in the case of connecting the following equipment, mutually : terminal station, studio, master control room, equipment room, including outside broadcast van, VTR van, microwave pickup equipment and monitor cable extended over a long distance
Connection image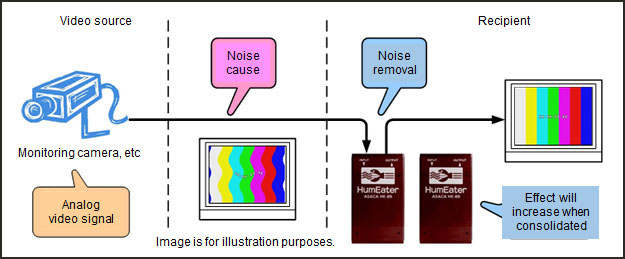 Since it has become in effect with no circuit configuration for the DC component, it can be used also in the DC power supply surveillance camera system via a coaxial cable.
Specifications
HE-89
HE-890
Impedance/Connector
75 ohm / BNC
75 ohm / BNC
No. of circui
1
10
Insertion loss
Less than 0.2 dB
Less than 0.2 dB
Dimensions(mm)
100(H) x 55(D) x 166(H)
EIA 482(H) x 384(D) x 132.2(H)
JIS 482(H) x 384(D) x 149(H)
Weight(kg)
1.7
28.5
Characteristics
Frequency response (dB)
10MHz
-0.6dB
 
20MHz
-1.02dB
30MHz
-1.25dB
 
 
Improvement rate of Hum (dB)
10Hz
26.0dB
 
50Hz
33.0dB
100Hz
32.0dB
 
 
*Design and specifications are subject to change without notice.
*Names mentioned are trademarks or registered trademarks of their respective manufacturers